Road raging, fighting and shooting (VIDEO)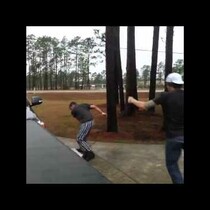 Posted March 26th, 2013 @ 10:05am
Here's the story (as highlighted by Carolina PlottHound today):
Road rage leads to fight.
Fight leads to a gun getting pulled.
That leads to a search for the man who whipped out the weapon.
Oh! Did I mention the whole thing is on video? Well, it is.
And here it is:
(WARNING: explicit language)
According to WNCT-TV, Newport, NC police arrested Bradley and Christy Turner.
Deputies say 40-year-old Bradley Turner from La Grange took out his anger Sunday morning at another man who cut him off while driving.

Turner allegedly started punching his victim, a man in a white baseball cap, after following him from James City to his house in Newport. The victim's friend shot cell phone video of the whole thing.

Eventually the suspect's wife, 30-year-old Christy Turner, came out with a gun.

Deputies say her husband shot at his victims, missing them, but hitting the victim's car and a neighbor's home.
All of this started on Sunday at about 1:00 p.m. in the James City area of Craven County. According to the story, investigators say there was a toddler in the car.
Wait - what?
More from News Radio 570 WWNC