Sports Tank 2017 NBA Mock Draft
The NBA Draft kicks off Thursday night at 7p. As the big day approaches teams are already making deals. The #1 pick belongs to the Philadelphia 76ers, for the 2nd year in a row, after they swapped places at the top of the order with Boston (now picking 3rd). The Charlotte Hornets made a splash by trading the dead weight contract of Miles Plumlee to the Atlanta Hawks, along with Marco Belinelli. In doing so, the Hornets also jumped 10 spots in the 2nd round, swapping picks with Atlanta. The Hornets pick 11th in the 1st round, and 1st in the 2nd (31st overall). The LA Lakers landed 20 pt -10 reb machine Brook Lopez from the Nets, and picked up a third 1st round pick.
Here's how I see the 1st round turning out: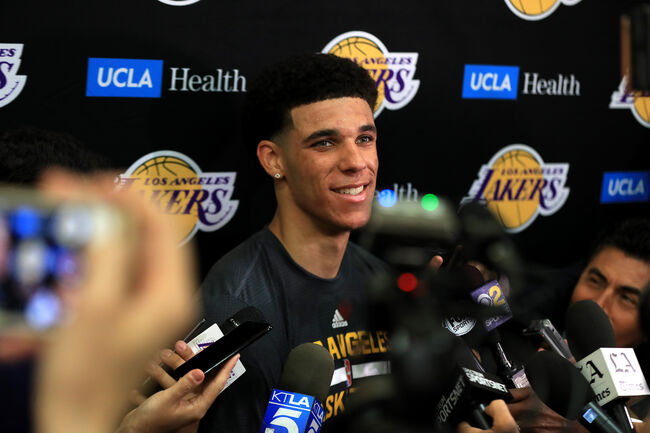 1. 76ers - Markelle Fultz, PG, Washington
2. Lakers - Lonzo Ball, PG, UCLA
3. Celtics - Josh Jackson, SF, Kansas
4. Suns - Jayson Tatum, SF, Duke
5. Kings - De'Aaron Fox, PG, Kentucky
6. Magic - Malik Monk, SG, Kentucky
7. T'wolves - Lauri Markkanen, PF, Arizona
8. Knicks - Dennis Smith, PG, NC State
9. Mavs - Frank Ntilikina, PG, France
10. Kings - Jonathan Isaac, SF, FSU
11. Hornets - Donovan Mitchell, SG, Louisville
12. Pistons - Luke Kennard, SG, Duke
13. Nuggets - Zach Collins, C, Gonzaga
14. Heat - Justin Jackson, SF, UNC
15. Blazers - Harry Giles, PF, Duke
16. Bulls - Ike Anigbogu, PF, UCLA
17. Bucks - Justin Patton, C, Creighton
18. Pacers - John Collins, C, Wake
19. Hawks - Jarrett Allen, C, Texas
20. Blazers - Terrance Ferguson, SG, Australia
21. Thunder - OG Anunoby, SF, Indiana
22. Nets - Bam Adebayo, C, Kentucky
23. Raptors - T.J. Leaf, PF, UCLA
24. Jazz - Alec Peters, PF, Valpo
25. Magic - Ivan Rabb, PF, Cal
26. Blazers - Caleb Swanigan, PF, Purdue
27. Lakers - Johnathan Motley, PF, Baylor
28. Lakers - Dwayne Bacon, SG, FSU
29. Spurs - Sindarius Thornwell, SG, S. Carolina
30. Jazz - Semi Ojeleye, SF, SMU
TOP 10 2nd Round Picks:
Jordan Bell, PF, Oregon
Tyler Lydon, SF, Syracuse
Josh Hart, SG, Villanova
Isaiah Hartenstein, PF, Germany
Frank Jackson, SG, Duke
Jonathan Jeanne, PF, France
Tyler Dorsey, SG, Oregon
Jawun Evans, PG, OK State
Tony Bradley, PF, UNC
Thomas Bryant, PF, Indiana

The Sports Tank
Want to know more about The Sports Tank? Get their official bio, social pages & articles on News Radio 570 WWNC!
Read more