2018 Sports Tank NFL Mock Draft
We are about a week away from draft day, and the already entertaining offseason could provide more fireworks before the 26th. The question on my mind, remains, will the Giants trade the #2 pick? Will they keep the pick, and draft a QB of the future? Or, will they get keep it, and draft the sure-fire, slam dunk, home run, RB on the board?
Here's my best attempt at predicting the first round, if there are no more trades...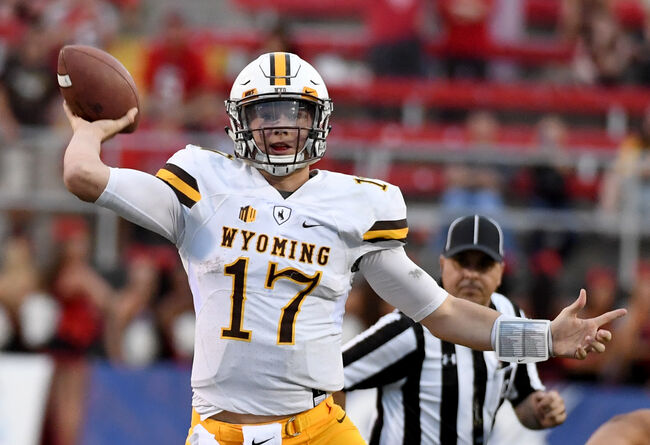 1. CLEVELAND - Josh Allen, QB, Wyoming
Cleveland has two of the first four picks. If they think there is a chance the Giants will take Saquon Barkley, they need to grab him here. I doubt they will, so take your pick of the three top QBs and scoop up the "no doubter" with pick #4. They reportedly like Allen best of all.
2. NY GIANTS - Sam Darnold, QB, USC
This is the opportunity the Giants have been waiting for. They still have Eli, and now they can bring in a possible successor without overwhelming pressure to immediately get him on the field. The problem is... I view Saquon Barkley as THE BEST player in this draft. I would probably take the runner and pick a QB later. Whether the Giants trade down, or not, I think Darnold is 2nd off the board.
3. NY Jets - Baker Mayfield, QB, Oklahoma
No. Just, no. This should NOT be the pick here, but that's what the buzz is. They like Mayfield. The rumor was they traded Indianapolis for this pick, just to ensure they got Mayfield. Honestly, I can't wait to watch this unfold. Mayfield's flippant, often arrogant, attitude should give the NY media plenty of headlines.
4. CLEVELAND - Saquon Barkley, RB, Penn State
Cleveland probably could take Saquon first, and maybe STILL get Josh Allen here. What difference does it make really? As long as they don't pull a Browns, this team could be a contender a few years from now.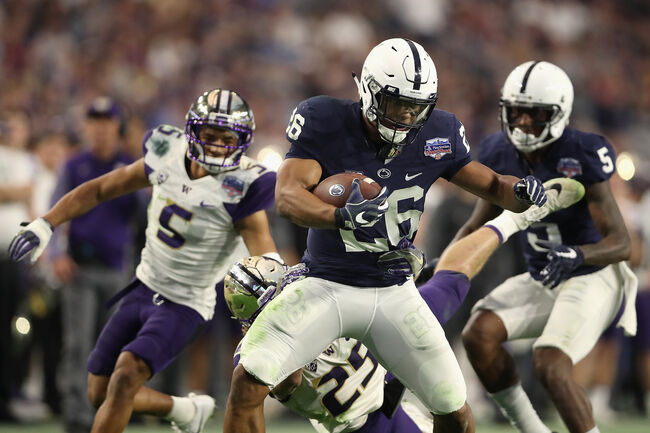 5. DENVER - Josh Rosen, QB, UCLA
Denver may not have to trade up to get one of the "Big Three" QBs, as everyone has predicted. If the Jets go with Baker, John Elway and company will probably jump at the chance to try to develop Rosen. A lot of focus has been put, lately, on the fact that Rosen has been injury prone in the past and that he apparently was not liked by teammates... so he could drop. I doubt that, though.
6. INDIANAPOLIS - Bradley Chubb, DE, NC State
The Colts could get the gold star for how this draft season has played out. They trade down to 6, so the Jets can whiff at #3, and they STILL get the guy they want/need. Meanwhile in that Jets trade, the Colts got two 2nd round picks this year, and another next year. That's on par with how the 49ers fleeced the Bears last year in their draft trade.
7. TAMPA BAY - Derwin James, S, Florida State
I tried making an argument for anything else here, but the Bucs MUST improve their secondary. T.J. Ward was a disappointment last season. James is a "hometown"pick, he covers well, and can step up to stop the run. Despite other needs, he's the kind of guy you don't pass on.
8. CHICAGO - Minkah Fitzpatrick, DB, Alabama
When it comes to homeruns, in this draft, there is Saquon at #1, then probably Fitzpatrick at #2. The guy is a playmaker. Full stop.
9. SAN FRANCISCO - Roquan Smith, LB, Georgia
Roquan is a beast. He has all the tools, and fills a big need for the Niners. Reuben Foster is probably going to miss some time after being charged with three felonies this offseason. Smith was the leading tackler for the national runner-up, with 85 solo tackles, 14 TFL, 6.5 sacks.
10. OAKLAND - Tremaine Edmunds, LB, Virginia Tech
Jon Gruden is an offensive guru, but he knows how important a defensive pass rush can be (See Tampa Bay, circa 2002). Edmunds is very versatile, much like Khalil Mack. With a front seven that includes Mack, Bruce Irvin, and Edmunds, you can apply a lot of pressure.
11. MIAMI - Vita Vea, DT, Washington
You cut Ndamukong Suh? Here, have a young version. This dude imposed his will in college. He's should be a great pro.
12. BUFFALO - Mike McGlinchey, OT, Notre Dame
Buffalo cannot move forward with A.J. McCarron as their best option at QB. The smart move would be to wait on one. If they don't trade up to #2, they don't want to whiff on a 1st rounder [[*cough*]] E.J. Manuel! Teaming this kid on a line with Cordy Glenn on one side, him on the other, sounds like a fine plan. Especially when LeSean McCoy is your bread, butter, and jam.
13. WASHINGTON - Da'Ron Payne, DT, Alabama
You rarely see games where the defensive tackle's name is said nearly as much as anyone on the defense. Aaron Donald, Ndamukong Suh, Vita Vea, and Payne all fall into that category. Washington needs a man in the middle of the line.
14. GREEN BAY - Denzel Ward, CB, Ohio State
Green Bay was in the bottom third in the league in 2017 in passing yards allowed per game. Ward is an All-American, who only allowed about 30 percent of passes thrown his way to be caught. He's physical for a corner, and is excellent at breaking up plays.
15. ARIZONA - Quenton Nelson, G, Notre Dame
The only knock against Nelson is that he's not a "great" athlete. He was dominant in college, excelling in pass protection and run blocking. I'll be surprised if he's not gone earlier in the draft. Arizona might be thinking receiver, but Nelson is a safer pick.
16. BALTIMORE - Calvin Ridley, WR, Alabama
I don't love this pick. I feel like it's that time in the draft, though. Ridley is the best in this class, but I have my reservations. He disappeared at times for the Tide. Maybe that changes at the next level, but I'm highly skeptical. Baltimore fills a need, and I'm underwhelmed.
17. LA CHARGERS - Joshua Jackson, CB, Iowa
The Chargers should be on the hunt for a defensive tackle, but with the top two off the board, and no offensive tackle near a top-20 value, they can bolster their secondary. Jason Verrett is a free agent next year. Jackson had 8 INTs this past year, including a crazy one-handed grab against Ohio St.
18. SEATTLE - Marcus Davenport, DE, UT-San Antonio
The Seahawks are definitely going to be a new-look team next year. Jimmy Graham is gone, so are Richard Sherman, Sheldon and Paul Richardson, and Michael Bennett. By the time you read this, Earl Thomas may have been traded as well. They need a LOT. Include in the rebuild an edge rusher who has 17.5 tackles for a loss last year.
19. DALLAS - Courtland Sutton, WR, SMU
After letting Dez Bryant go, the Cowboys need a playmaker on the outside. Sutton is a physical receiver, who lacks breakaway speed. Reading the scouting reports, he sounds like the next coming of Kelvin Benjamin... take that for what you will.
20. DETROIT - Rashaan Evans, LB, Alabama
He missed two games this year, and still led the Crimson Tide in TFL (13) and total tackles (74). Tahir Whitehead is now in Oakland. Detroit has a great chance to get instant production in the middle of a horrible defense.
21. CINCINNATI - Isaiah Wynn, G, Georgia
The Bengals offensive line has been suspect, at best, lately. Isaiah blossomed into a top prospect throughout the year. Down the stretch his play was at an All-American level. He's mobile, witith good size. He could be the guy who pulls and leads the way for big Joe Mixon gains.
22. BUFFALO - Lamar Jackson, QB, Louisville
They won't hesitate to pull the trigger on a (should have been two-time) Heisman Trophy winner with this pick. If nobody else takes the gamble before this point, Buffalo must make this pick. Jackson is a good kid, with a head on his shoulders, and a will to prove himself as a pro QB.
23. NEW ENGLAND - Jaire Alexander, CB, Louisville
Defense, defense, defense. It let the Pats down in the clutch last year. They weren't great all year, but they'd be the defending champs had it not been for the D. Alexander was banged up in 2017, but they weren't serious injuries. According to one report, he may have been playing it safe. He has elite speed, and could benefit from playing with Stephon Gilmore.
24. CAROLINA - Kolton Miller, T, UCLA
Please, please, please address that offensive line. It's been five years since I started preaching this about the Panthers. They haven't brought in any/enough difference-makers, and the line fails them every year. Matt Kalil is not the left tackle of the future. At 6'9'', 310, you have to like the size. If the Panthers can't protect Cam, they will go nowhere.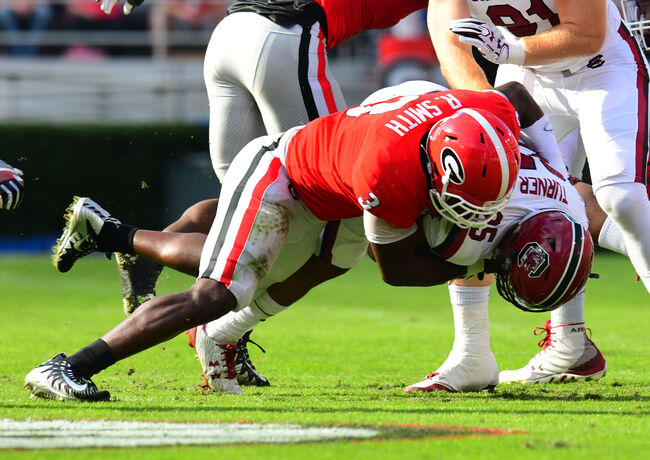 25. TENNESSEE - James Daniels, C, Iowa
The Titans are going all-in on RB Derrick Henry, after cutting DeMarco Murray. The biggest question mark on the O-Line is center Ben Jones. Daniels is billed as a guy who will instantly challenge for a starting spot. This could inspire better play from Jones, and allow Daniels time to add more weight before he takes over the role.
26. ATLANTA - Taven Bryan, DT, Florida
Dontari Poe is now in Charlotte. That leaves Grady Jarrett as the lone starter on the roster. Scouts say Bryan may take a while to blossom, but he's a definite upgrade over any of the Falcons' reserves. Bryan has the athleticism to play all over the defensive front, giving Dan Quinn lots of options.
27. NEW ORLEANS - Will Hernandez, G, UTEP
I like New Orleans' prospects for next season. They surprised me this past season, and now that I expect them to be in the Division hunt again, I expect they'll fall flat. They need to draft a QB of the future, but there aren't any others who warrant a 1st round pick, in my opinion. Hernandez is hyped as a future Pro Bowler.
28. PITTSBURGH - Leighton Vander Esch, LB, Boise State
The Steelers would be reaching, as well, to draft a QB here. Ryan Shazier is going to come back, if he can, but that's a big IF right now. Vander Esch is a one-year starter, but his 141 total tackles should tell you how good he is at getting to the ball.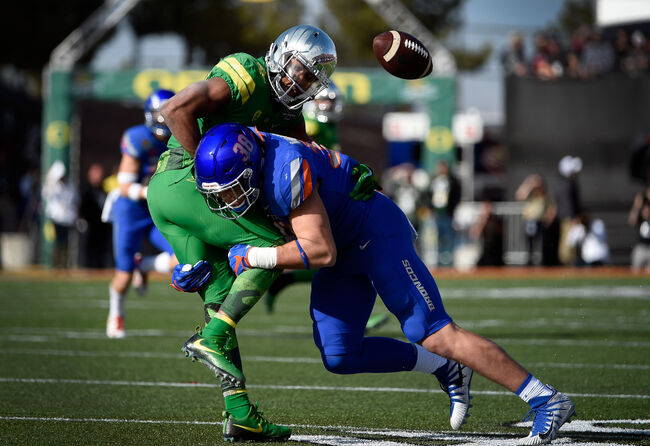 29. JACKSONVILLE - Orlando Brown, T, Oklahoma
Despite his atrocious outing at the Combine, Brown should be a 1st rounder. He comes from good stock. His dad, Orlando "Zeus" Brown, played for 11 years in the league. Look at the tape. He rag dolls opponents on the regular. He would offer more protection for Bortles, then whoever the QB of the future is.
30. MINNESOTA - Mike Hughes, CB, UCF
The Vikes are able to take a chance on a guy who has a really high ceiling, but has little experience and past off-the-field issues. Hughes is physical with receivers. His speed makes him a candidate for return duties, if those still exist next season.
31. NEW ENGLAND - Harold Landry, DE, Boston College
Bill Belichick is pretty good at getting late 1st round studs that he doesn't necessarily need. This pick would be in that category. If he's on the board, Landry will no doubt stay in Beantown.
32. PHILADELPHIA - Carlton Davis, CB, Auburn
After the Daryl Worley trade ended up a bust, because of his arrest, they need to find a replacement. Carlton Davis was great for the Tigers, tallying three straight years of double-digit passes defended. He would be an instant impact for the defending SUPER BOWL CHAMPIONS!

The Sports Tank
Want to know more about The Sports Tank? Get their official bio, social pages & articles on News Radio 570 WWNC!
Read more