The First Kupchak Head-Scratcher Didn't Take Long
The Charlotte Hornets handed the GM reins over to former Lakers GM Mitch Kupchak, and the bonfire of concerns had by many, has already been fanned. Sources say the Hornets have agreed to trade Dwight Howard to the Brooklyn Nets. In return they could get Timofey Mozgov, two 2nd round picks, and cash.
Wait... the Timofey Mozgov who won a championship with the Cleveland Cavaliers in 2016, then was immediately OVERPAID by Mitch Kupchak and the Lakers?
Yes, that one!
He's also the one who, since signing his 4-year, $64 million contract, has averaged 5.8 points, 4 rebounds, and only 16 minutes per game. He was just traded for a guy who reemerged last season, averaging almost 17 points and more than 12 rebounds per game for Charlotte.
Dwight Howard's contract expires at the end of next season. The Hornets owed him $23 million for 2018-2019, and would have been hoping he turns in a repeat of this past year's double-double performance. Instead, the Hornets are now on the hook to a guy who shouldn't be more than a 3rd or 4th option in the post, for a hefty $16 million in each of the next two years.
Timofey Mozgov, in 2018-2019, will make more money than Kemba Walker... by $4 million! Add his to Nicolas Batum's massive paycheck, and the Hornets will likely pay roughly $38.5 million for 15 or 16 points per game.
The Hornets already own several bad contracts, and the new GM may have picked up the worst in the league. The Hornets do own the #45 pick Thursday night and a 2nd rounder in 2021 now, but, the Charlotte franchise hasn't known draft success in a long, long time and the patience of the fans is wearing thinner by the year.
We didn't even make it to the draft before the #FireMitch hashtag showed up on social media.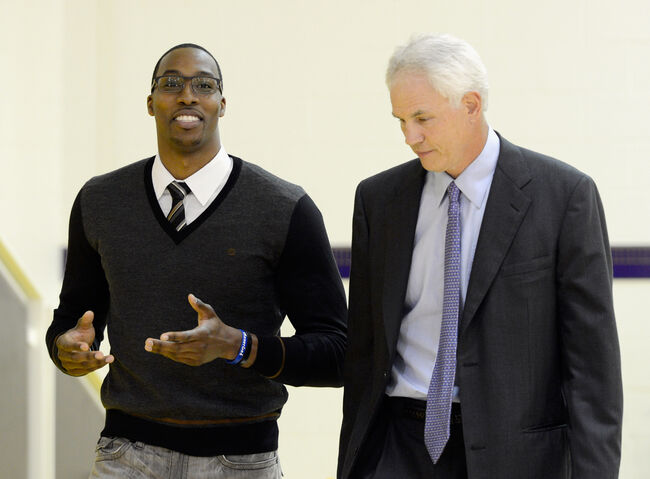 The Sports Tank
Want to know more about The Sports Tank? Get their official bio, social pages & articles on News Radio 570 WWNC!
Read more