Ex-Tourists Manager Up To His Old Tricks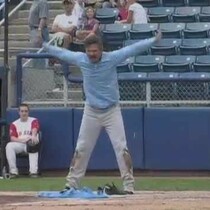 Posted August 18th, 2014 @ 6:00pm
The passion, and sometimes hilarity, of former Tourists manager Joe Mikulik was a staple of baseball in the mountains for years. Now he's taken his sometimes volatile managing style to the Grand Strand. Mikulik is now manager of the Myrtle Beach Pelicans, the Advanced Single-A affiliate of the Texas Rangers.
In a game Sunday, Mikulik took exception to an umpire's call in the 5th inning. His response was everything you'd expect.
Let's take a look at the best of Joe's explosions in the past.
More recently...
Why Mik has not been on the fast track to the majors as a manager is beyond me. The game needs some spicing up. Why would Miami not sign him up just for the show? That may be the only way they can get more people to attend their games.
No offense to Freddy Ocasio, but we miss ya Mik!